Universitą degli studi di Pavia
News and Events
Contatti

Prof. Mauro Freccero (PhD coordinator)
Dipartimento di Chimica
Viale Taramelli 12, 27100 Pavia
Email: mauro.freccero@unipv.it
Phone number: +39 0382 987668

Prof. Franca Ferrari (deputy PhD coordinator)
Dipartimento di Scienze del Farmaco
Viale Taramelli 12, 27100 Pavia
Email: franca.ferrari@unipv.it
Phone number: +39 0382987380

Secretary:
Eleonora De Lorenzo
Dipartimento di Chimica
Viale Taramelli 12, 27100 Pavia
Email: eleonora.delorenzo@unipv.it
Phone number: +39 0382 987908

Home
The Graduate School in Chemical and Pharmaceutical Sciences at the University of Pavia was established in 2013. It results from the merging of the previous Graduate Schools in Chemistry and in Pharmaceutical Sciences. Currently, the Research in the School is carried out in individual research groups, with teams often organized to address new topics in organic, inorganic, physical and pharmaceutical chemistry with exciting opportunities for interdisciplinary research. Graduate Students carry out a full-time three years' research on modern Chemistry and Chemical technology and using laboratories and facilities at both the Departments of Chemistry and Drug Sciences of the University.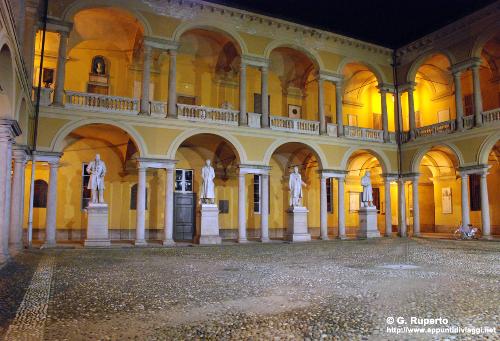 Beside the research activity, dedicated teaching, including foreign lecturers, allows the students to deepen their knowledge in several interdisciplinary research fields (see Research Topics section at:
http://phdscchim.unipv.eu/site/en/home/research-topics.html
). The Graduate School in Chemistry at the University of Pavia ensures that chemistry research at Pavia is a thorough and exciting experience with the final aim to prepare PhD's in Chemistry and Pharmaceutical Sciences ready for University Teaching, Research Institutions, R&D in Industry and Services Public Agencies..
Coordinator:
Prof. Mauro Freccero
(Tel: +39 0382 987668)
Secretary:
Eleonora De Lorenzo